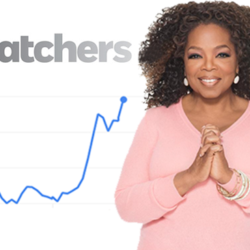 Weight Watchers International (WTW) has been on a tear this year. Thru yesterday's close of $43.13, it is up 277% from the 2016 close of $11.45.  There has been tremendous volatility in this stock over the years.  In 2015 it crashed below the financial crisis low, finally bottoming with a weekly close of $3.97.
That July 2015 low reflected an 85% drop over a 4 1/2 year period. Very shortly thereafter Oprah Winfrey took a 10% stake in the company at a reported average price of $6.79.  Weight Watchers stock began a relentless push higher after Oprah's announcement on December 22, 2016 that she had lost 40 lbs. on the program. 
My wife and I started on the program on August 21. As of my weigh-in this morning I am down 4.4%, on my way to a 10%+ drop in weight. I use the Weight Watchers iOS app and am very happy with it. It is easy to use and the bar code scanner is awesome. 
In the video below I review the weekly and daily charts and discuss all these points and more.