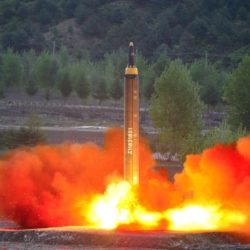 The stock market blasted off last Monday after Hurricane Irma turned out to be a little less damaging than expected and North Korea did not launch their missiles of September program, over the weekend.  The rally continued a little less robustly into quad witching day on Friday.
The stock market was up on Friday even after North Korea launched another missile over Japan, around 5pm CT on Thursday. This was the second time in less than a month that North Korea launched a missile over Japan.  I'm sure the folks in Japan love hearing the sirens go off and worrying about a nuclear bomb dropping on their heads.
So far the market doesn't seem to care about the missiles of September.  It will be interesting to see if that holds over the second half of the month. It's been well publicized that September is one of the worst performing months of the year historically. So far the S&P 500 (SPX) is up 1.16% for the month.
In today's brief market update I review the SPX daily and weekly charts, as well as 3 key ETFs…semiconductors, homebuilders and financials. The Semiconductor ETF (SMH) just keeps trending higher.  Because SMH has been such a stellar performer this year, I check in on the top 3 holdings(%): Taiwan Semiconductor (TSM)- 12.4%, Intel (INTC) – 10.85% and Nvidia (NVDA) -6.05%. Nvidia had a big move up on Friday, up 6.3% to close at $180.11. Note, this market update is just a brief snippet of what I provide my Insider Members.