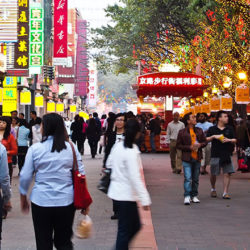 The Chinese economy hasn't been in the news very much lately. And maybe that's because their economy seems to be chugging right along. As the world's 2nd largest economy it is a major influence on global markets. China still matters, and matters a lot. 
Three economic reports were released last night. Retail Sales was expected to be up 10.6% year over year and was actually reported as 10.7%. This performance is right in the range of the last 2 years but below 2013 and 2014.
Industrial Production was expected at 6.3% year over year and reported as 6.5%.  This level was higher than most of 2016, so showing stability but well below the 2013 and 2014 levels. 
The last report released was Fixed Asset Investment which was expected at 8.9% year over year but reported as 8.6%. This was the weakest growth in year over year since last December.  So two of three key reports were on track.
The Chinese economy appears to be holding steady but China stock markets seem to be giving a little different picture.  In today's video I look at what the charts of the Shanghai Composite and Shenzhen Composite are telling us.  Continue reading