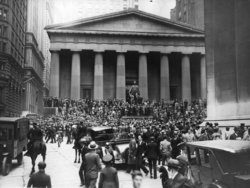 No one knows for sure what the stock market is going to do. But I am always looking for patterns that might give clues. So when you think about historic price action in October, a stock market crash is definitely one that comes to mind.
The last time we were at an Elliott Wave SuperCycle wave high was 1929. The 1929 Crash occurred from September 3rd to November 13. That was exactly a Fibonacci 89 years ago. So I decided to compare the price action in 1929 to the current price action in the S&P 500 (SPX).
In 2018 the S&P 500 peaked on September 2 (closing basis).  Are we in an 89 year echo in the stock market? Watch this short video.